Where:
House of Dr. Jesco von Puttkamer
1420 Monte Sano Blv.
Huntsville, Al 35108
When:
Thursday, October 10th, 2013 at 5p.m.
contact: info (at) jvputtkamer (dot) com
cellphone: (347) 225 4136
Herewith: All friends, colleagues, readers, fans and supported Moonbuggy students of the NASA scientist Prof. / Dr. Jesco von Puttkamer are invited to attend. A plaque will be unveiled at the former home of Dr. von Puttkamer wherein he resided during the Apollo era. This is the second plaque to be unveiled, following a prior inauguration at the birthplace of the NASA scientist in Leipzig, Germany on September 24, 2013.
Prof. / Dr. Jesco von Puttkamer would have been 80 years old on September 22nd. He worked in Huntsville, Al after receiving invitation from Wernher von Braun to support the Apollo program beginning in 1962. He had an office in the MSFC (known as the von Braun Hilton), calculated lunar orbits and planned the reusability of spacecraft . Later he headed a working group to repair the Skylab. Since 1974 Dr. von Puttkamer moved to and worked at the NASA headquarters in Washington. There he helped plan and prepare the shuttle program and the construction of the ISS. He always was engaged in international cooperation with Russia. He was responsible for orchestrating the visit of Sputnik designer Korolev's daughter to Huntsville in 2008. But, his dream remained of Mars. As a young science fiction author , NASA consultant for Star Trek and also of non-fiction books, Dr. von Puttkamer was published numerous times. His last book, "The Millennium Project Mars" addressed a manned landing on Mars.
Since 2006 Dr. von Puttkamer came every year back to Huntsville, Al and supported the international league of teams participating in the annual NASA Moonbuggy Race. During these returns, he would meet with U.S. students and international students at historical sites of the "von Braun team" in Huntsville. These sites commemorate many who paved the way to the future and should not be forgotten.
The "Jesco von Puttkamer Society", founded September 24, 2013, consists of close friends and colleagues and also international students of the scientist. This plaque is dedicated to the memory of this great scientist who was able to join and link the international world of aerospace.

Merits/Achievements of Prof. Jesco von Puttkamer
No scientist shaped our present and future as sustainable as Prof. Jesco von Puttkamer by his works
reaching over five decades telling of things between science fiction and science reality - between
vision and reality expectant.
1961 Engineering diploma for Mechanical Engins, TU Aachen
1962 Emigration to the United States, working at NASA during the Apollo moon program
1964 Studies on the reusability of the SBII stage of the Saturn V moon rocket
Professional engineer graduate of the State of Alabama
1973 Head of the working group for the repair of the Skylab
1974 Head of the Strategic Planning Working Group of the permanent development of the universe
1975 Employee of the Apollo-Soyuz Test Project, preparation of crews
Moving to Washington, NASA Headquarters, Space Operation Mission Directorate
Involved in the planning and construction of the Space Shuttle
1976 Recruiting officer for the Space Shuttle Astronaut Corps
1978 NASA scientific consultant for Star Trek - The Movie (1979)
1983 Honorary Professor at the University of Applied Sciences Aachen (to 2000)
1996 Honorary Doctor of Philosophy, University of Saarbrücken
1998 Start of daily status reports of the ISS to the Congress, White House and Industry
2005 Advisory Board Chairman of the International Space Education Institute of Leipzig (until
recently) since then daily use for young researchers in Germany
2004 "Exceptional Service Medal" by NASA
2007 "NASA Honor Award" for good development of co-operation with Russia
2009 "Distinguished German-American of the Year", Philadelphia (GAHFUSA, Bush, Griffin)
2011 Name-giving of the asteroid "266725 Vonputtkamer" in recognition of the JPL (NASA)
2012 Since 1990, highly sought-after speaker on schientific conferences and congresses in
(Huntsville / USA, Germany, Austria, Moscow)
2013 highly doted commemoration by NASA (4.2.2013)
Links:Fotos-Leipzig-commemoration-obituary
There are no translations available.
Eröffnung der Fotoausstellung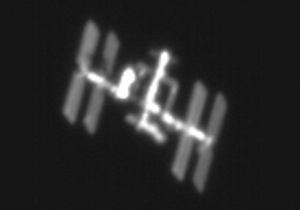 Anlässlich des 20. Jubiläums der Städtepartnerschaft Leipzig-Houston in diesem Jahr präsentiert der Verein Städtepartnerschaft Leipzig-Houston e.V. eine Fotoausstellung "Über die Grenzen Hinaus – Across All Borders" mit eigens von der NASA bereitgestellten Fotos. Die Ausstellung ist vom 7. Oktober bis 15. November 2013 in der Volkshochschule Leipzig, Löhrstraße 3 - 7, im 1. Obergeschoss (Mo-Fr 8 -22 Uhr, Sa 8 - ca. 18 Uhr) zu sehen, und ist eine Zusammenarbeit mit dem International Space Education Institute.

Schwerpunkt der Ausstellung ist der Alltag auf der International Space Station (ISS), ein internationales Projekt der NASA, an dem Deutschland beteiligt ist. Gezeigt werden ca. 20 hochauflösende Fotos, die das tägliche Leben auf der ISS schildern. Die Fotos werden mit kurzen Texten in deutscher und englischer Sprache beschrieben. Prof. Hartmut Keil, Vorsitzender des Vereins, wird die Ausstellung eröffnen.
Alle, die sich für das Leben im All interessieren und Näheres über Leipzigs Partnerstadt Houston erfahren möchten, sind herzlich zur Ausstellungseröffnung am 7. Oktober 2013 um 18.00 Uhr eingeladen. Der Eintritt ist frei.
"Über die Grenzen Hinaus – Across All Borders"
Montag, 7.Oktober 2013, 18.00 Uhr
Volkshochschule Leipzig, 04105 Leipzig, Löhrstraße 3 - 7, 1. Obergeschoss
Eintritt frei

Das International Space Education Institute e.V. (ISEI) und der Verein Städtepartnerschaft Leipzig-Houston e.V. haben im Rahmen der Ausstellungsvorbereitung eng zusammen gearbeitet. So wurden Tipps über die Zusammenstellung und Quellen der Fotos gegeben. Aus dem Fundus des Space Institutes sind ausgestellt: Yvonne´s Botschafter-Raumanzug (echter ISS-Pinguin-Suit), Raumfahrtnahrung, ein Fisher Space Pen mit Druckpatrone, die Kopie der im Weltraum geflogenen Olympiabewerbung Leipzigs, ein Ersttagsbrief "80 Jahre Jesco von Puttkamer". Erwartet wird auch noch ein Stück im Weltraum mitgeflogener Würchwitzer Milbenkäse.
Am 17. Oktober 2013 hält das International Space Education Insitute im Rahmen dieser Ausstellung eine Vorlesung in der Volkshochschule: "Erlebnisse vom Bord der ISS - aus dem Tagebuch der Anousheh Ansari, Jesco von Puttkamer und Kosmonauten". Der Vortrag beruht auf persönlich erzählten Erlebnissen nach zahlreichen privaten Gesprächen mit Astronauten, Kosmonauten und deren Ingenieuren. Es tragen vor: Ralf Heckel (Vorsitzender ISEI), Yvonne Heckel (Space Camp Botschafterin Deutschlands).
"Erlebnisse vom Bord der ISS - aus dem Tagebuch der Anousheh Ansari, Jesco von Puttkamer und Kosmonauten"
Donnerstag, 17.Oktober 2013, 17.00 Uhr
Volkshochschule Leipzig, 04105 Leipzig, Löhrstraße 3 - 7,ÂÂÂÂ 
Eintritt frei